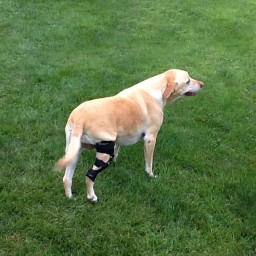 Chloe
Chloe
History: 8 year old yellow Labrador Retriever returned to the house unable to bear weight on right rear leg. Diagnosed with a torn CCL that occurred months earlier, worsened by repeat injury.
Treatment: Due to previous problems with anesthesia, the owners felt that surgery was not an option. With surgery option out, owner still wanted to provide best quality of life and discussed conservative management options including bracing.
Results: Chloe wears her brace during the most active part of her day; approx. 10 to 12 hours. Chloe's activity level has greatly increased since she started wearing her brace, now being able to walk 1/2 – 3/4 of a mile per day. We are slowly increasing our distance. She does not wear her brace at night.